Game Accessories





Mad Catz Atlanta Falcons PlayStation 2 Control Pad Pro

Football fans everywhere will love the chance to combine the thrill of PlayStation 2 gaming with their favorite team. Officially licensed by the NFL, this controller features a full-color team design as well as a poly-carbonate impact-resistant finish. Sack your competition with the powerful controls while showing off your style and allegiance.

The Control Pad Pro is fully analog with dual joysticks, dual vibration motors and pressure-sensitive analog action buttons. All of this power comes in a comfortable package, thanks to tactile rubber grips that keep things feeling great even during a double overtime affair. Add NFL flair to any game while enjoying the immense power at your fingertips.





Logitech Flight Force Joystick

Go behind enemy lines and experience how it feels to fly a plane with the Logitech Flight Force Joystick. This joystick takes you out of your living room and puts you into the cockpit of a fighter jet. Grip and get ready to fly with force feedback technology that lets you feel every explosion and weapon recoil.

This joystick has easy-to-reach buttons for extra comfort and a high-precision throttle that provides accurate power settings. The Flight Force also includes a twist handle for rudder control and an eight-way hat switch that offers precise movement and a heightened flying experience.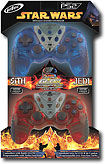 Intec PS2 Star Wars Sith vs. Jedi Controllers (Two-Pack)

Show off your love of Star Wars and immerse yourself in the Force as either a brave Jedi Knight or a Lord of the Sith. This set of programmable Star Wars controllers lets you surround yourself in either the blue glow of the Jedi or the red glow of Vader. Become one with the Force and achieve the victories you seek.

The Star Wars Sith vs. Jedi Controllers let you program your favorite combination moves in one button. Utilize the Turbo function for lightning-quick moves that will give you the upper hand. These officially licensed controllers allow you and a friend to recreate the ongoing struggle between both sides of this famous and epic saga.